To say people are ready to get back out and play is likely a gross understatement. It even begs the question of what exactly safely "getting back out" actually looks like now. Live entertainment was one of the hardest hit verticals. It has become practically impossible to host any sort of event without jeopardizing the health of fans, artists, and employees. It's pretty difficult to stay six feet apart when you're front row twerking to Lizzo at Lollapalooza.
Now that much of the country is reopening, we're beginning to get glimpses into how the entertainment world is adjusting to safely resume business. After all, the show must go on!
The Future Is Live
2020 was the first time we saw multiple major festivals and concerts get cancelled or postponed. This list included Coachella, Cannes, and SXSW, all of which caused some major financial blowbacks not only for the artists, but the events and promoters. As a proactive response to the multiple cancellations in 2020, one of North America's largest live events companies, Live Nation, announced they will be implementing new cancellation policies in 2021. The policies primarily reduce artist guarantees in the event of a cancellation and take extra precautions to protect the promoter. While the future of most live events are still up in the air, there have been some interesting approaches to getting fans back in the audience.
Los Angeles based design agency, Production Club, has created a protective suit people can rock to music festivals and clubs. The suit is designed to spare them from potentially exposing themselves and others to germs. Not only does the suit take into account safety by including an N-95 filter, it also keeps in mind that these suits are meant to be worn to party– it boasts snap-in canisters specifically for drinking and vaping. The physical prototype hasn't been unveiled yet, but it may be something we see at concerts in the near future.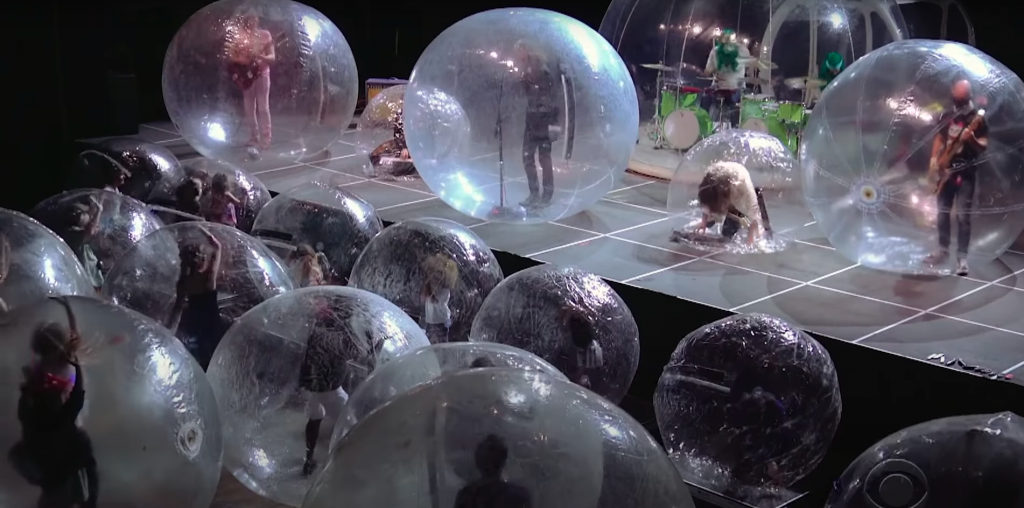 The Flaming Lips found a way to hold a socially distanced performance. They equipped audience members with their own Bubble Boy-esque protective bubbles and the band performed inside of their own bubbles donning masks and gloves. Perhaps the future of concerts will be less of a mosh pit and more of a ball pit.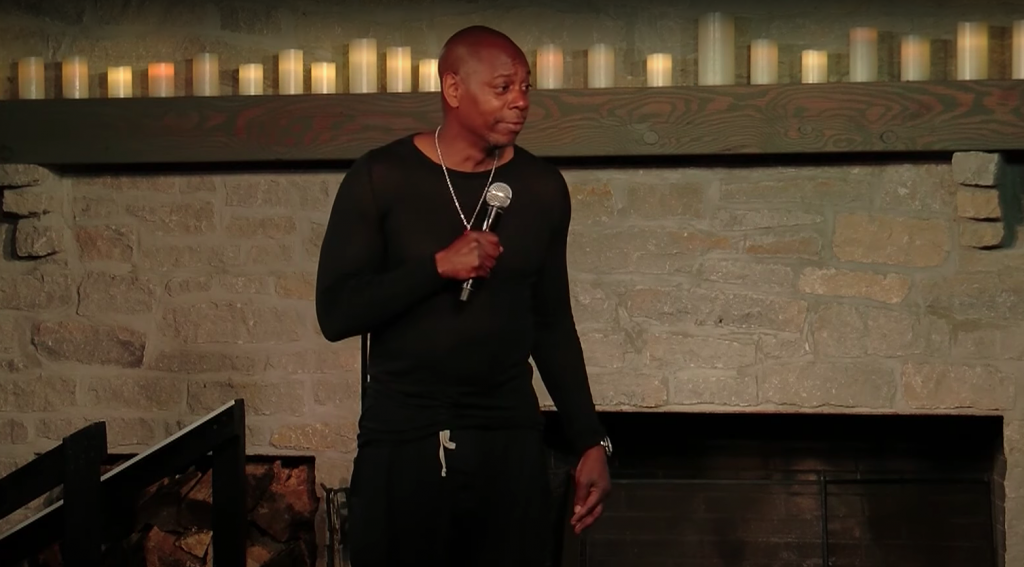 Comedy titan Dave Chappelle recently performed a socially distanced stand-up set, which was shared on Netflix's YouTube account. While the set was themed as a response to the killing of George Floyd, there are some interesting glimpses into how live comedy may make a return in the upcoming months.
First, the special was released online. This is a distribution strategy movie studios have implemented as of late for a few releases including Dreamworks's Trolls World Tour, Universal's King of Staten Island, and Paramount's The Lovebirds in lieu of pushing the release dates. The opening of the 27 minute special tackles the elephant in the room by highlighting how socially distancing rules were implemented.  Careful attention is paid to showing that audience members were seated six-feet apart, could only sit Noah's Ark style in pairs of two, and wore masks for the duration of the show. The event was also hosted outdoors in Ohio. As comedy clubs around the country begin to reopen, it's likely many of those same strategies will find their way into local clubs.
It's A Sanitized World After All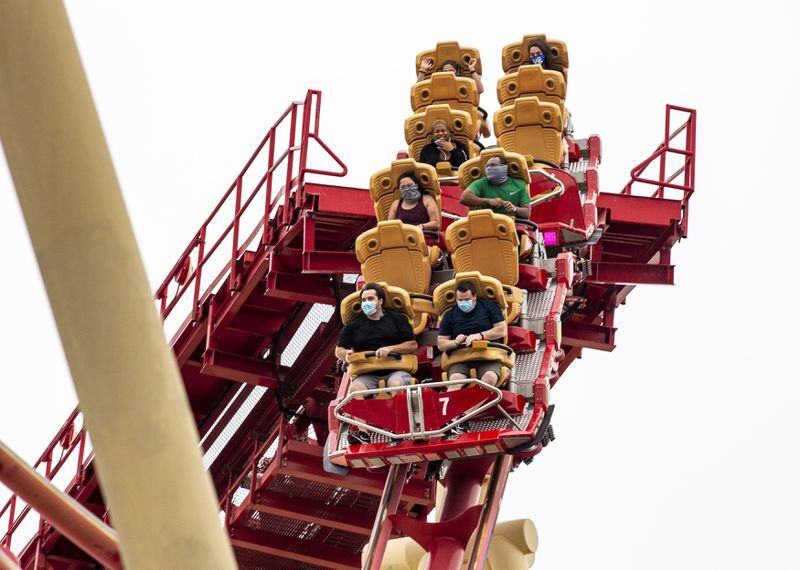 Now that we are officially in the heavily profitable summer months, it's not surprising that theme parks are reopening. Universal Studios Theme Parks recently began welcoming guests back to their Florida location, but with very tight rules including:
Requirement of face coverings at all times within the park unless in a designated area. I imagine this rule won't be so fun in the sweltering summer heat.

Mandatory bag checks before boarding attractions.

Socially distanced character meet and greets meaning guests can wave at their favorite characters, who are partitioned behind a roped off area, and take a selfie. No going in for that hug, unfortunately.

Temperature checks before entering the park. Universal has the right to deny entry should a park patron run a little hot.

Floor markings where guests are required to stand when watching shows and queuing for attractions.

Hand sanitizer use when required, which could happen when entering stores or boarding ride vehicles.
Stateside, Disney theme parks have yet to open to the public. It's likely they will follow the same protective measures as Universal Studios and the Disneyland sister park in Hong Kong, which only recently began welcoming guests back to the parks after a four month hiatus.
Is This Just a Mic Check?
We won't know exactly how successful some of these approaches will be for a few months. Thus far, the public response has been mostly positive as people are happy to simply resume their extracurriculars even in a limited capacity. It will be interesting to see how many of these safety precautions stick around and become standard similar to the enhanced security checks after 9/11. Expect these strategies to become even more innovative as more entertainment avenues venture back into business.