While cities begin to slowly reopen, production companies and creative agencies are adapting to new ways of convening on set. Here's a round-up of what some production companies are doing to establish best practices for safety and health measures while filming on set.
Wear Personal Protective Equipment (PPE) – Crew members, clients, and anyone on set should wear masks and gloves at all times. The production should supply all parties with the appropriate safety gear.

Keep a safe distance – Try to maintain a 6 feet distance from all talent and crew, if possible. Avoid shaking hands with talent, other crew members, or anyone else on set. Lionsgate suggests blocking off the video village for certain crew only, all 6 feet apart.

Wash hands frequently – Wash your hands often with soap and water for a minimum of 20 seconds. Use hand sanitizer with at least 60% alcohol, and avoid touching your eyes, nose, and mouth with unwashed hands.

Disinfect/clean – Production should bring disinfectant wipes to set, which should be used on tables and other frequently touched objects. Atlantic Television recommends disinfecting gear (cases and camera handles, mics, tripod heads, etc.) and avoid using other crew members' work tools and equipment, when possible. Consider setting up a sanitation station in multiple areas around the set for easy access.

Feeling ill – If at any time a crew member or talent is feeling ill, they should be sent home immediately. Sick crew members should follow CDC-recommended steps.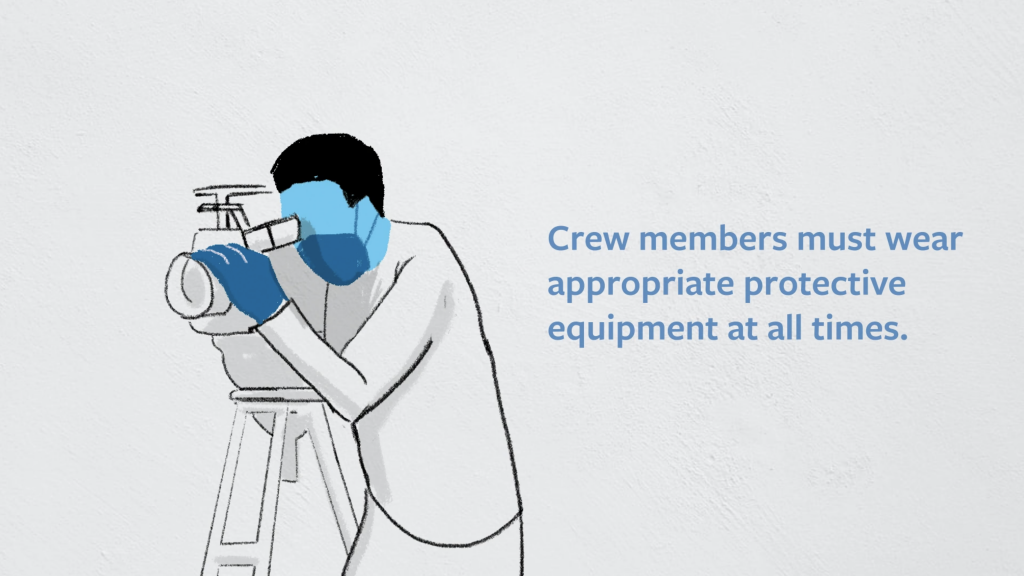 Other things to consider:
According to the Alliance of Motion Pictures and Television Producers, the use of paper should be minimized on set, wherever possible. Consider using electronic sign-in sheets and alternatives to petty cash like PayPal or Venmo. In fact, many major productions in Hollywood are considering going entirely paperless on set.

American Institute of Certified Planners (AICP) suggests only serving meals and snacks in individually packaged or wrapped portions, and eating utensils should be disposable and individually wrapped.

Try to limit the number of people on set at one time, to maintain social distancing standards. Stagger cast and crew call and wrap times, wherever possible. Also avoid allowing visitors on set, whenever possible.
While some of these points may seem obvious, it's important to review these guidelines with crew members at the start of the day. Hold a short 15-minute health and safety meeting with all crew members, talent, and clients to ensure everyone is briefed on the safety measures for the duration of the workday.
It's important to keep these guidelines in mind when starting to plan for your next production, as some of these points may need to be tweaked for a specific situation. When in doubt, implement as many precautions as possible to stop the spread of Covid-19 and allow for productions to restart as seamlessly as possible.
As Lionsgate eloquently says, "We are entering into a new era in film production in which flexibility and compassion need to be in the forefront of everything from development through delivery."
Useful Links:
CDC: https://www.cdc.gov/coronavirus/2019-ncov/index.html
WHO: https://www.who.int/emergencies/diseases/novel-coronavirus-2019