Livestreaming and the virtual event are nothing new. But they are newly empowered.
From Broadway to baseball. Concerts to conferences. If it normally happens live and in-person, it's not any more. Goodbye fans. Goodbye customers. Goodbye audience. No wonder livestreaming is seeing a resurgence as brands, performers, producers, promoters, and communicators scramble to take their events online.
As usual amidst upheaval, the innovators are shaking things up. The sheer volume of new (and good) livestreaming content is incredible. To find it, quarantined audiences can turn to sources like The New York Times whose art section now features a column curating the best livestreaming events.
All this new-found focus on livestreaming is also fueling some really interesting and creative approaches. Already some clear best practices are emerging, and we thought we'd highlight a few.
Engaging audiences with bite-sized content
Cherry Bombe celebrates women and food through their magazine, their Radio Cherry Bombe podcast, and their annual Jubilee conference. Earlier this spring, with live events mothballed, they took their conference online with an Instagram Live event, called Jubilee 2.0. When your lineup includes Ina Garten, Padma Lakshmi, and a host of hipster up-and-coming chefs rocking the culinary foodscape, you don't shelve anything. You adapt.
What stood out (among all the great talent) at Jubilee 2.0 was the absolute air-tight structure. Clearly organizers brought the same seriousness to pre-production planning as they would to a live in-person conference, with the entire event scheduled to the minute. The format was brilliant. Instead of having multiple breakout rooms which can feel like a free for all or one continuous stream which can get monotonous, organizers broke the day into bite-sized 10- to 20-minute sessions.
The a la carte structure allowed attendees to dip in and out as they chose, skipping one session and tuning in for the next. Attendees reported that curating their own experience actually made the moments they chose to attend feel more immediate and relevant, more intimate even than an in-person experience. Talk about audience engagement.
There were chef home demos, couch-comfy celebrity chats, and a day-ending digital swag bag. But in all the virtual hoopla, the crisp production never lost sight of brand or values. Each session was clearly presented by major sponsors (American Express, Resy, Kerry Gold, Johnny Walker and others), and a portion of sponsorship fees went directly to nonprofits supporting out-of-work restaurant workers, freelancers, and food security.
Jubilee 2.0 gives us a great template for how a smart brand takes a known (and adored) in-person event online. But for some event producers, social distancing means tweaking your approach and re-inventing what you already do well.
Putting a fresh twist on audience favorites
With festivals, clubs, and other music venues shutting down, the folks at StageIt.com created a virtual festival awesomely titled "UnCancelled." A virtual Coachella of sorts, the idea of the UnCancelled Music Festival is to bring together musicians, fans, and community-minded venues around the globe to create virtual concerts in support of an industry hit hard by social distancing. Organizers intend to continue the festival until the crisis is over, and the proceeds are split between the venues, the musicians, and the MusicCares Emergency Relief Fund which is working to help those in the music industry who've lost jobs.
The way UnCancelled works is simple. Fans buy tickets to each stage online (there's even a real-time tip jar should the music move you). Best of all, you can chat with other concert goers and even the musicians. It all feels a little like walking in on an intimate studio session with friends. Clubby. Insidery. A bit loose sometimes. But all in a good way.
Admittedly, as an online concert venue that promises a front row seat to a backstage experience, StageIt.com is uniquely set up to deliver here. But the fact that they are stepping up so strongly is an affirming (and smart) brand moment. They get to display their platform to a whole new group of interested fans. More importantly, they get to showcase their values and support the industry and people they care about in a meaningful way. UnCancelled offers a great reminder for brands to operate in your wheelhouse, tap into what you do best, and find ways to authentically serve your audience and stakeholders.
The show must go on … with great talent
Our final livestreaming event shoutout goes to Stars in the House with Broadway veterans Seth Redetsky and James Wesley. Livestreamed daily at 2PM ET and 8PM ET, the show features some of the biggest talent from Broadway and beyond live-streaming in from their homes. They dish dirt, share stories, and celebrate live performance — all for The Actors Fund and its services. Stars in the House is technically a program not an event, but the show was conceived in direct response to theater closings in the wake of the pandemic and the content is so good, we feel there are lessons to be learned here for brands looking to livestream events.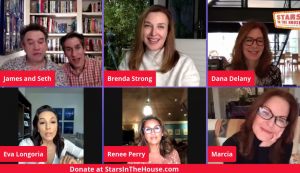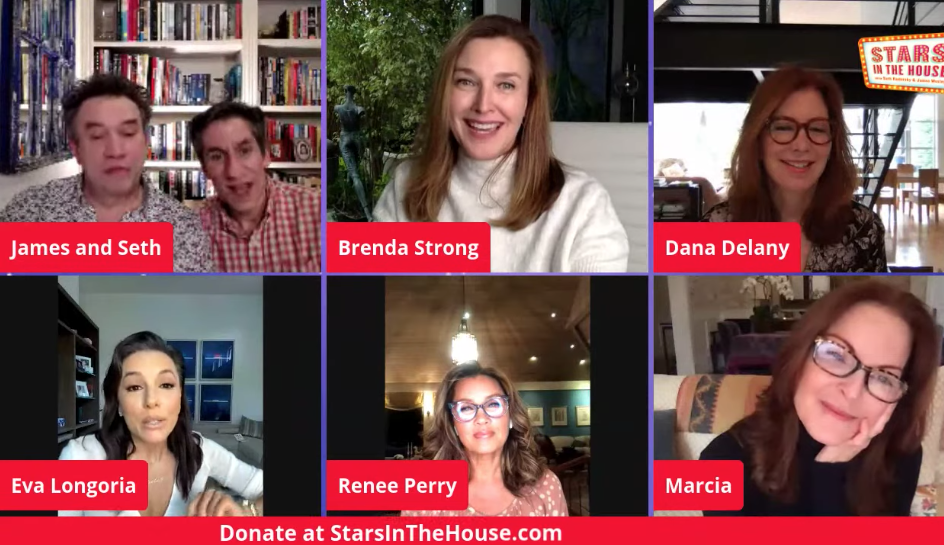 Naturally, there are technical glitches along the way. But their familiarity somehow makes the show more, not less, compelling. To see Eugene Levy momentarily freeze frame like a co-worker in your office Zoom meeting is somehow very democratizing and satisfying.First of all, when we say good content we don't necessarily mean overly polished. With livestreaming, your event (your show) IS your content. Of course, as in this case, it helps when you have amazing star power. But the real power of Stars in the House comes from its sense of intimacy. And in its clear intent to just have a good time.
What's more, the guests really do include the biggest names in the performing arts. Tina Fey. Jeremy Jordan. Lin-Manual Miranda. Kristin Chenoweth. Billy Porter. (We could go on and on.) There's often an impromptu song played or sung. Always a story. But mostly it feels like a family catch up. The effect is surprisingly personal and familiar.
Perhaps that component is the superpower of the livestreaming event? The ability to take the viewer right into the moment and near the performance in a way they'd never achieve (even with a front row seat).
With twice daily shows, the Stars in the House is already nearing 100 episodes. All of these are archived online. Together they offer a fascinating look at what learning-on-the-fly, livestream production looks and feels like. Speaking of the archive, yes, video-on-demand shared out through social channels offers event planners a more controlled alternative to livestreaming. And we hope to cover that in future. But for now, the message is that livestreaming is the closest thing we have to the in-person experience. And it offers a customized, up-close and intimate experience that is hard to replicate even at the best of live events.
Maybe the lesson to be learned is that if you know your point of view and trust your talent, then just let them create and ideate out of whatever the moment hands them. Spontaneity coming off a bedrock sense of purpose can be really compelling for viewers. So go in with strong content and production plans, tap good talent, and roll with it.