It's not enough to just ride the social responsibility bandwagon. More than ever, people are paying attention to how companies are legitimately putting action behind their words. People don't want to just hear that you're doing something, they want to see it and they want to believe it. They want authenticity. Yes, you're doing a wonderful thing, which should be shared. But in an age where people's BS meters are finely tuned, it can be very easy to go from lauded to vilified. If you don't believe social responsibility is a necessity for your company, then how do you expect consumers to believe it?
The most authentic social responsibility programs are ones that make sense and are natural integrations for your company. Simple. Be thoughtful and think about what programs can align with your company's mission and values.
Look no further than Patagonia, the outdoor apparel brand, as an example of a company that beautifully blends its company values with its social responsibility program. Knowing that clothes and the production that goes into making clothes have a huge impact on the planet, Patagonia is committed to making high-quality clothes with recycled materials. They also promote fair and safe labor conditions for their workers and even started the Sustainable Apparel Coalition in 2010. As an outdoor apparel company with an audience of people that love exploring the planet just as much as they love preserving it, this is a natural integration for Patagonia and one that resonates authentically with people.
This may seem obvious but take a clear stance. There isn't room for fence straddlers when it comes to social responsibility. You're not going to please everyone and frankly, most people are tired of brands that even attempt a panacea approach when it comes to social responsibility.
The words are written right there on the digital wall of Dr. Bronner's, the soap and personal care products producer, website: "We are responsible for ourselves but also each other, and as we grow, we must grow responsibly." Anyone purchasing Dr. Bronner's knows that they are a company dedicated to doing right by the environment, their customers, and their employees. Dr. Bronner's six cosmic principles include independent third-party certifications to ensure their products are of the highest ecological and social sustainability standards, a commitment to near-zero waste, a "mindful and humble use of earth's gifts," and ethical sourcing.
Clearly laying out their stances, not only helps Dr. Bronner's to be more authentic, but it also builds a stronger brand affinity with audiences. People connect with brands that align with their beliefs and by being direct in who they are as a company, people can decide for themselves if Dr. Bronner's is indeed a company that aligns with their own personal values and beliefs.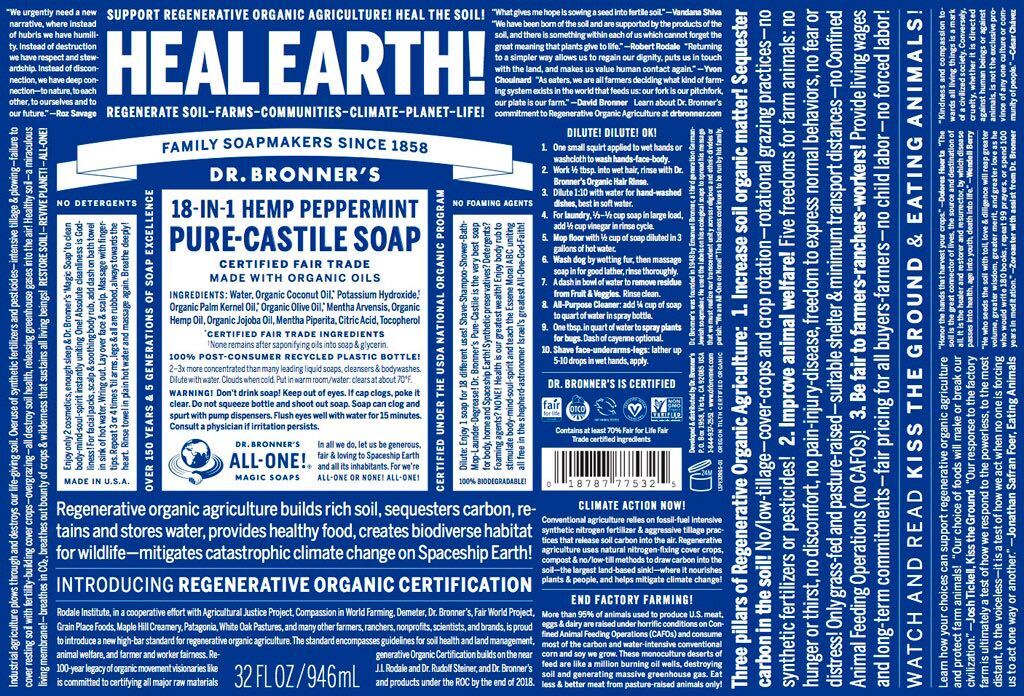 Klean Kanteen understands that part of developing a social responsibility program that is authentic is to simply do the research to better inform the company's decisions. After evaluating the source of their emissions, Klean Kanteen installed 216 high-efficiency solar panels at their corporate headquarters. These panels now supply 100% of the building's electricity and their energy emissions have dropped. While they weren't able to eliminate all of their GHG energy emissions, they were able to solve for the ones they couldn't eliminate by purchasing carbon offsets and renewable energy credits. They are also 100% carbon neutral in the manufacture and delivery of their products and made a commitment to the Paris Climate Agreement. Putting that effort into their strategy gave them a deeper perspective from which they could better find inspiration and ideas that make sense for their brand.
Authentic social responsibility is about earnestly caring and using your power as a corporate entity to incite change and build a healthier relationship with the very communities that your company calls home. It's about being a brand that matters because you are making a positive impression and ensuring that your efforts to be a brand that matters are earnest. Social responsibility is not a quick endeavor, but its impacts are everlasting.